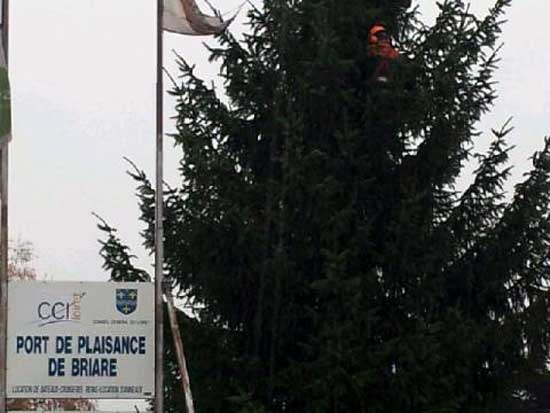 PORT DE BRIARE - Décembre 2012
En fonction des saisons, des événements, retrouvez ce qui fait le charme du port de plaisance de Briare le Canal. (A lire de bas en haut)

Throughout the year, live events that make up the charm the Briare-le-Canal marina.

Gebeurtenissen door het jaar heen die zorgen voor de charme van Briare.

Décembre 2011
Janvier 2012
Octobre 2012
Novembre 2012
En fins limiers, Evelyne et Alain ont retrouvé le sapin de la capitainerie. Il trône sur la place devant l'église. Merci à Eux.

In sleuths, Evelyne and Alain regained the captaincy tree. It sits on the front of the church. Thank you for Them.

N'hésitez pas de vous promener dans les rues de Briare pour admirer le travail artistique du service technique de la ville, comme ici devant la mairie.

Do not hesitate to walk the streets of Briare to admire the artistic work of the technical department of the city, like here at the Town Hall.

On a retrouvé la capitainerie du port de Briare. Bruno en rêvait, la ville l'a fait.

We found the Captaincy of Briare. Bruno dreamed, the city did.


Le lorrain a quitté le port. Allez fêter la Saint Nicolas à Roanne en attendant de venir en 2013 à Castets-en-Dorthe.

Lorraine left the port. Come celebrate Saint Nicolas in Roanne waiting to come in 2013 Castets-en-Dorthe.

Le guide « Seine amont » était épuisé depuis 2 ans. La nouvelle édition est disponible à la capitainerie. Un guide entièrement refait : nouveau texte et nouvelle cartographie. Réservez le dès maintenant auprès de Bruno.

The guide to the "Upper Seine" has been out of print for 2 years. However, this new edition is now available at the Capitainerie/Port Office: a completely updated version with all new text and mapping. Reserve your copy now with Bruno.

Der Leitfaden "Seine upstream" wurde für 2 Jahre erschöpft. Die neue Ausgabe ist am Hafen zur Verfügung. Ein Leitfaden komplett renoviert: neue Texte und neue Zuordnung. Buchen Sie es jetzt mit Bruno.